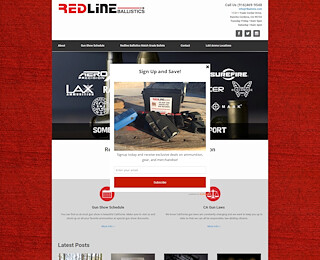 Browsing the mass of ammunition stores on the internet can be like a double-edged sword for the consumer.  It can be likened to walking down the laundry soap isle at your local market.  Lots of choices, but daunting as well, especially for the new shooter. 
Redline Ballistics (RLB) Ammo has a very robust online presence through our sister company LAX Ammo.   Besides our ability to make ammo sales by the box or by the crate, we have expanded into accessories like optics and "gun gear". 
So why choose RLB/LAX ammo?  We've been in business since 2009, and besides working with all major players in the market, we manufacture and re-manufacture our own lines of ammo, with over 500,000 rounds coming off the presses each and every week.  If you are purchasing our named brand new or remanufactured ammo, we guarantee your satisfaction.  Period.  
Prices
During the last presidential administration ammunition prices skyrocketed, and many calibers including .22LR were nearly non-existent in the market.  Buyers at this time were under the assumption that things were going to go dark at any time, and the market was hit hard.  We've all heard countless times how our former president was the best thing to happen to the gun and ammo industries, and that may have been an accurate assessment. 
Things have certainly calmed down now, and ammunition prices have stabilized at very attractive levels as the supply has caught up with demand.   The future is of course un-predictable, but it's hard to imagine prices getting any lower due to rising ammo component and material costs. 
New laws
Here in California things have changed over the past couple of years concerning ammo purchases.   As direct to consumer purchases over the internet have been eliminated in our great state, we are as such stepping back to the "olden days" with ammunition stores and going "brick and mortar". 
Setting aside all the politics concerning this, Redline Ballistics and LAX Ammo have made the best of this with four retail operations in-state.   At our retail ammunition stores you can browse our entire inventory up close and personal, talk shop with our experienced staff, and even use the firing range at our Los Angeles facility.  Not too bad, right? 
If you live in California and are more than a stone's throw away from our retail stores, you can also order online and have the ammo shipped to your local Ammo Vendor or FFL dealer.   And although we reside in California, we can ship out of state direct to consumer, local laws permitting. 
There are literally scores of ammunition stores online, as we all know.   Many of them have attractive prices.   RBL/LAX stands alone though with key advantages.  We manufacture our own line in both rifle and handgun calibers, which can save you money in your bulk purchases.  Sure, you might not wish to use remanufactured ammo when you are sighting in on that Boone and Crocket mulie, but it's just perfect for target and plinking.  We also have four retail stores for our California residents.  Give us a call.
Redline Ballistics
(916)469-9548
11311 Trade Center Drive
Rancho Cordova
CA
95742
View Larger Map