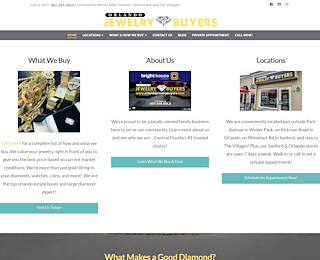 Falling victim of a scam is one of the biggest concerns when it comes to selling gold jewelry. For those who don't know how gold jewelry is appraised, it's tricky to understand how an unfair jeweler can take advantage of you. If you try to sell gold jewelry in Florida without knowing the right information, you're setting yourself up for an unfair deal already. Keep in mind that the value of gold changes daily, meaning that your gold jewelry may be worth less today and more tomorrow. Here are tips for selling your gold jewelry to avoid being scammed.
Get Multiple Options
Shopping around can pay off in the long run when looking to sell your gold jewelry. It allows you to find buyers that offer the highest price. When shopping for gold buyers, make sure you find three or four local jewelry stores and ask for an estimate. You can better gauge future offers with a base price in mind.  
Know The Gold's Value Before Selling
Karat weight determines gold value because higher karat weights have more actual gold. A jewelry store may make a low offer if you don't know the value of your gold. There's a possibility your item may be worth more than the prices you are offered. To avoid getting scammed, keep different karat weights together, and compare price offers with the numbers you've obtained from your research, so the buyer doesn't pay using the lowest karat weight.  
Research The Company You're Selling To
Is the gold buyer listed with the Better Business Bureau (BBB)? A reputable business should be on BBB listings. Look for accreditation as well. Although not required, but it can provide you with more confidence. Also, research how long they've been in business, their specialties, and whether they have a recognized credential. If the company isn't registered or has a history of trouble with authorities, the best approach is to walk away.
Wait to Commit
It's a good idea to take sometime before making a decision, no matter how good a deal sounds at first. Legitimate gold buyers like Orlando Jewelry Buyers can help you understand the current market and make the best choice. However, some gold scammers use cold phone calls to convince gold sellers to make a split decision to reduce the possibility of their victims doing the necessary research that would show they are fake callers. If you encounter a gold buyer on a phone call for the first time, instead of committing to sell right away, let them know that you'd like to think about it first. If they're from a legitimate company, they will give you enough time. 
Orlando Jewelry Buyers Will Buy Your Gold Jewelry
No matter the karat weight, color, or grade of your gold jewelry, we will buy it. At Orlando Jewelry Buyers, we provide the highest cash payment if you have gold or diamond jewelry to sell in Florida. Give us a call at 407-645-4653 to schedule an appointment.
Florida Gold Buyers